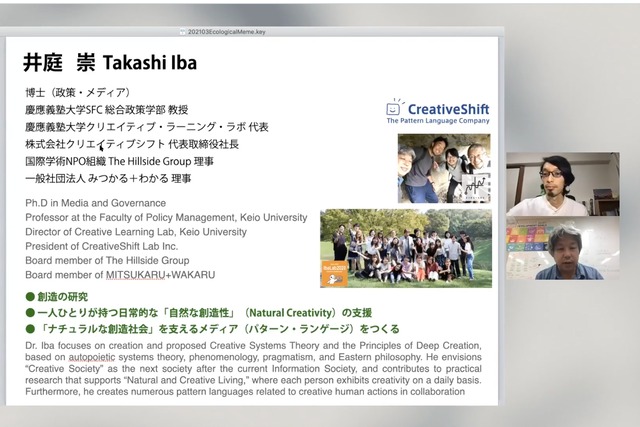 【EMF21/EN】DAY1_A:Creative Society in the Age of Symbiosis: Emergence through Non-Self, Chaos, and Ku(with Takashi Iba)
EMF21_DAY1_A.pdf
Download URL
You can DL after purchase (108110byte)
Title: 【EMF21/EN】DAY1_A:Creative Society in the Age of Symbiosis: Emergence through Non-Self, Chaos, and Ku(with Takashi Iba)
Type: Archived content of online session
Language: Both English & Japanese (Simultaneous interpretation)

※This is an archived content of Ecological Memes Global Forum 2021 "Emergence from AWAI: Regenerating Human-Nonhuman Relations"(03.18-21.2021)
※You can download a PDF file and access links and passwords(You can watch both English ver. and Japanese ver.)
※Feel free to contact us if you need a student discount (you can chose either 30%off or 50%off)
DAY1_A:Creative Society in the Age of Symbiosis: Emergence through Non-Self, Chaos, and Ku(with Takashi Iba)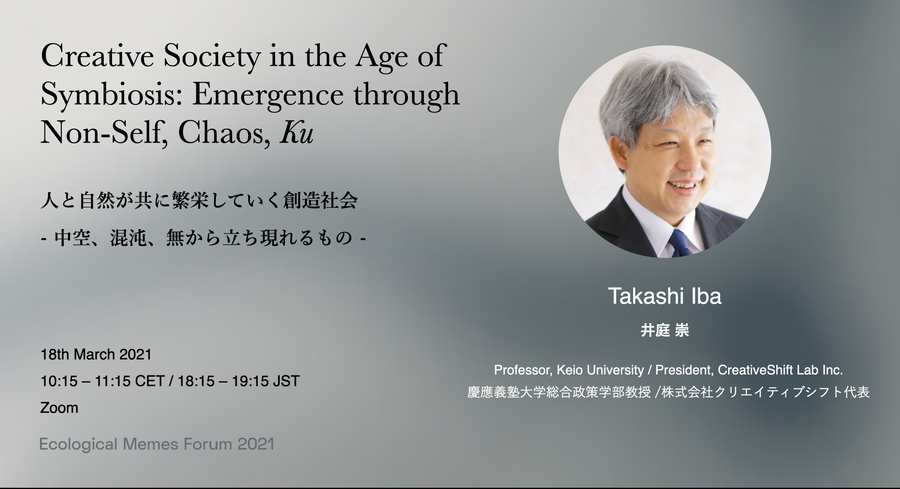 Ecological Memes Global Forum 2021(03.18-21.2021)
"Emergence from AWAI: Regenerating Human-Nonhuman Relations"

DAY1_A:Creative Society in the Age of Symbiosis: Emergence through Non-Self, Chaos, and Ku(with Takashi Iba)

Are we witnessing a transition – to a co-thriving future for people and planet? In this session, we welcome Dr. Takashi Iba from Keio University, who explores the field of "Creative Practice", an indispensable set of ideas and knowledge for tackling the various societal challenges we face today. Join us in discovering the deep principles of creation in times of crises and possibilities, as we apply an Eastern lens rooted in the Buddhist philosophies of Śūnyatā (emptiness) and non-self.
Index:
-Egoless creation
-Egolessness and meditation
-Nurturing "the whole"
-Feeling from the inside
-Pure experience before subject-object division
-Feel first, then think
-Egoless creation and deep consciousness
-Harmonious order beyond inner-outer conflict
-Circular flow of life and creation
-Creation is best expressed in middle voice
-How to dive into egoless creation
-Opening up your senses and connecting with collective consciousness of life
-Creation as natural process of life
Navigator:
・Takashi Iba
Takashi Iba is a Professor at the Faculty of Policy Management and the Graduate School of Media and Governance of Keio University. He received a Ph.D. in Media and Governance from Keio University. He is the president of CreativeShift Lab Inc., which provides materials for utilizing pattern languages and services to support creating new pattern languages. Alongside, he is a board member of The Hillside Group, which promotes the use of patterns and pattern languages and also sponsors several conferences and publications on pattern languages, and a board member of MITSUKARU+WAKARU, a general incorporated association for generative learning in everyday life. Dr. Iba focuses on creation and proposed Creative Systems Theory and the Principles of Deep Creation, based on autopoietic systems theory, phenomenology, pragmatism, and Eastern philosophy.
About the forum:
A global virtual forum organized by Ecological Memes, a Japan-based community of regenerators, bridging the East and the West towards a co-thriving future.
https://www.forum.ecologicalmemes.me
Product details:
Title: 【EMF21/EN】DAY1_A:Creative Society in the Age of Symbiosis: Emergence through Non-Self, Chaos, and Ku(with Takashi Iba)
Type: Archived content of online session
Language: Both English & Japanese (Simultaneous interpretation)

※This is an archived content of Ecological Memes Global Forum 2021 "Emergence from AWAI: Regenerating Human-Nonhuman Relations"(03.18-21.2021)
※You can download a PDF file and access links and passwords(You can watch both English ver. and Japanese ver.)