【EMF21/EN】DAY3_B:Wisdom from Japan: Shugendo and Relational Living + Global Real-Time Celebration of the Spring Equinox (with Fumihiro Hoshino, Hiroshi Yamada)
EMF21_DAY3_B.pdf
Download URL
You can DL after purchase (118885byte)
Title: 【EMF21/EN】DAY3_B:Wisdom from Japan: Shugendo and Relational Living + Global Real-Time Celebration of the Spring Equinox (with Fumihiro Hoshino, Hiroshi Yamada)
Type: Archived content of online session
Language: Both English & Japanese (Simultaneous interpretation)

※This is an archived content of Ecological Memes Global Forum 2021 "Emergence from AWAI: Regenerating Human-Nonhuman Relations"(03.18-21.2021)
※You can download a PDF file and access links and passwords(You can watch both English ver. and Japanese ver.)
※Feel free to contact us if you need a student discount (you can chose either 30%off or 50%off)
DAY3_B:Wisdom from Japan: Shugendo and Relational Living + Global Real-Time Celebration of the Spring Equinox (with Fumihiro Hoshino, Hiroshi Yamada)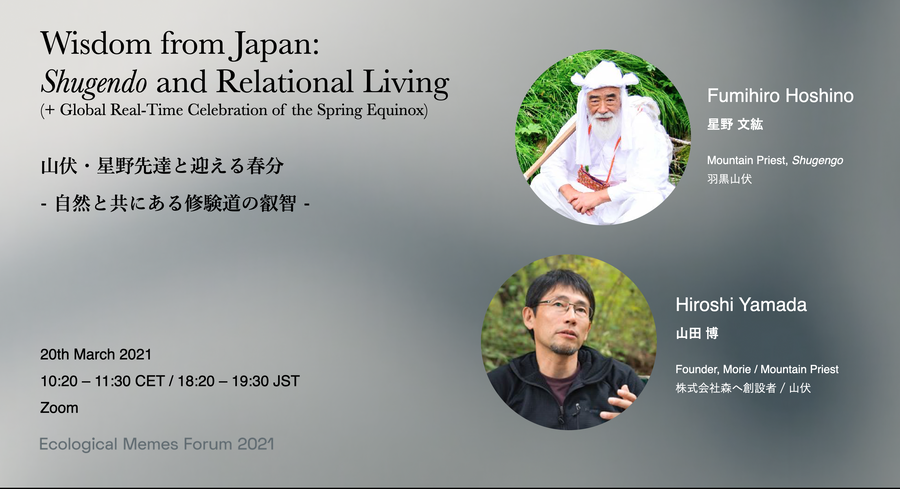 Ecological Memes Global Forum 2021(03.18-21.2021)
"Emergence from AWAI: Regenerating Human-Nonhuman Relations"

DAY3_B:Wisdom from Japan: Shugendo and Relational Living + Global Real-Time Celebration of the Spring Equinox (with Fumihiro Hoshino, Hiroshi Yamada)

For a long time, there existed in Japanese the word, jinen, as opposed to shizen, the modern translation of "nature." Rather than objectify nature in a dualistic view, jinen expresses a cosmology of relations that emerge across a vast and ambiguous time and space. In this session, we will be guided by mountain priest Fumihiro Hoshino, an elder immersed deep in the 1000-year-old wisdom of Shugendo, to explore the horizons of relational being.
Index:
-Do not think, but feel
-Moon as teacher of time, sun as teacher of seasons
-Botamochi in spring, ohagi in autumn
-No answer in Japanese "dou"
-Why shugendo continues over 1400 years
-Tokogatame is to become a plant
-Becoming one with a waterfall
-How to restore our wildness
-A tree and I both have "ha" (leaf and tooth in Japanese)
-Live "live"
-Uketamou is love
-AWAI as ambiguity
-Jinen: humans as part of nature
-Listening with body, not head
-What COVID-19 has taught us
Navigator:
・Fumihiro Hoshino(Mountain Prest)
Born in 1946, at Daishobo Inn in Dewa Sanzan, Haguro-area Yamagata, Japan. In 1971 he succeeded as the 13th generation of Daishobo Inn. In 2007, he served as the Matsu no Hijiri of the Fuyu no Mine ascetic practices, the highest training of Dewa Sanzan. He is a director of the Dewa Sanzan Shrine Board and a director of the NPO Koueki no Furusato Tsukuri Tsuruoka. He has led more than 1,000 practitioners and has been pursuing the revival of Yamabushi (Mountain Priest) throughout Japan. He also interacts with people overseas. In order to make the most of the wisdom of the mountain priests, he has been giving talks on how to live called ""Haguro Yamabushi's street preaching"" throughout Japan.
He is the author of ""Live as You Feel"" and ""The Answer is in Your Feelings"".
Talk Session Guest:
Hiroshi Yamada(Founder Morie Inc,. / Professional Coach / Mountain priest)
Through his long career in coaching, he was aware of hidden anxieties that lurk within human beings. After the repeated experiences of intuitively immersing himself in the forest, he gained the insight that this anxiety comes from the delusion created by humans themselves that they are disconnected from the logic of life. Since then, he has been guiding people to remember the fundamental senses that all beings are connected to each other. He has resonated deeply with the book Regenerative Leadership and works together with Ecological Memes. He is also a practitioner of Shugendo that has been practised in Japan for over 1400 years.
About the forum:
A global virtual forum organized by Ecological Memes, a Japan-based community of regenerators, bridging the East and the West towards a co-thriving future.
https://www.forum.ecologicalmemes.me
Product details:
Title: 【EMF21/EN】DAY3_B:Wisdom from Japan: Shugendo and Relational Living + Global Real-Time Celebration of the Spring Equinox (with Fumihiro Hoshino, Hiroshi Yamada)
Type: Archived content of online session
Language: Both English & Japanese (Simultaneous interpretation)

※This is an archived content of Ecological Memes Global Forum 2021 "Emergence from AWAI: Regenerating Human-Nonhuman Relations"(03.18-21.2021)
※You can download a PDF file and access links and passwords(You can watch both English ver. and Japanese ver.)