【EMF21/EN】DAY3_C:A Sociological Perspective on Invisible Violence: Relational and Pluriversal Ontologies (with Rolando Vázquez)
EMF21_DAY3_C.pdf
Download URL
You can DL after purchase (114902byte)
Title: 【EMF21/EN】DAY3_C:A Sociological Perspective on Invisible Violence: Relational and Pluriversal Ontologies (with Rolando Vázquez)
Type: Archived content of online session
Language: Both English & Japanese (Simultaneous interpretation)

※This is an archived content of Ecological Memes Global Forum 2021 "Emergence from AWAI: Regenerating Human-Nonhuman Relations"(03.18-21.2021)
※You can download a PDF file and access links and passwords(You can watch both English ver. and Japanese ver.)
※Feel free to contact us if you need a student discount (you can chose either 30%off or 50%off)
DAY3_C:A Sociological Perspective on Invisible Violence: Relational and Pluriversal Ontologies (with Rolando Vázquez)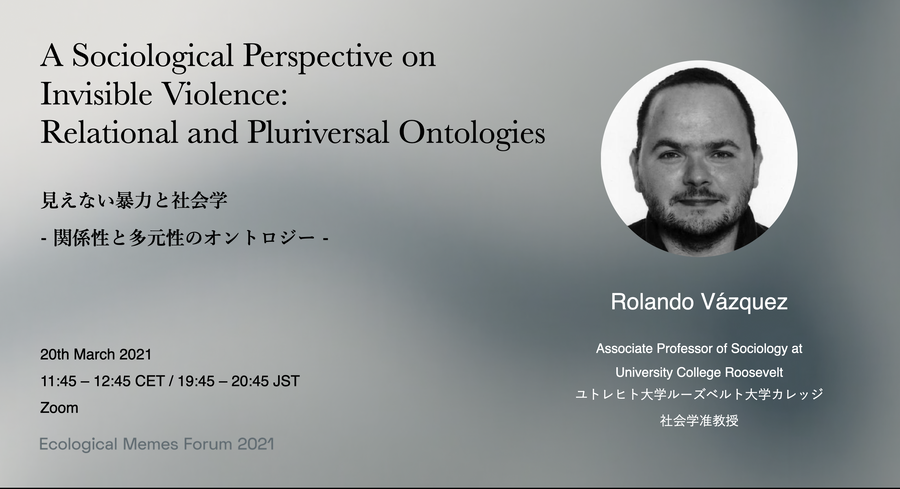 Ecological Memes Global Forum 2021(03.18-21.2021)
"Emergence from AWAI: Regenerating Human-Nonhuman Relations"

DAY3_C:A Sociological Perspective on Invisible Violence: Relational and Pluriversal Ontologies (with Rolando Vázquez)

Invisible violence seeps across our modern society. Noticed or unnoticed, these structures of aggression show histories, become reinforced and reproduced in the present, and marginalize the futures of the oppressed. How can we better highlight these dynamics, reconceptualize homogeneity and subjectivity, and embody an ontology of relationality and pluriversality? More simply, how can we listen more attentively to one another, human or nonhuman? In this session, Dr. Rolando Vazquez will guide us through a brief interweaving of the Western and Japanese contexts under keywords such as modernity, epistemic violence, and decoloniality.
Index:
-What calling is upon us
-Time to listen to Mother Earth
-Humanity's loss of memory
-AWAI as relationallity
-What have we become?
-Coloniallity as erasure of knowledge
-Cutting human life off from earth
-Arrogance of ignorance
-Humbling of modernity
-What it means to embody relational thinking and being
-Re-membering who we are
-We live in the loss of time
-How can we practice acts of humbling
Navigator:
・Dr.Roland
Rolando Vázquez is Associate Professor of Sociology at University College Roosevelt and Cluster Chair at the University College Utrecht, both at the University of Utrecht. He is author of "Vistas of Modernity: Decolonial aesthesis and the End of the Contemporary" (Mondriaan Fund 2020). Together with Walter Mignolo he founded and co-directs since 2010 the annual Middelburg Decolonial Summer School now located at the Van Abbemuseum for the last eleven Years. He co-authored the report of the Diversity Commission of the University of Amsterdam in 2016 under the direction of Gloria Wekker. Through his work he seeks to decolonize cultural and educational institutions beyond the dominant frameworks of contemporaneity, heteronormativity and coloniality. His research on the question of precedence and relational temporalities seeks to overcome the western critique of modernity and contribute to the ongoing efforts to decolonize knowledge, aesthetics and subjectivity.
Moderator:
・Shuhei
Shuhei Tashiro is a social entrepreneur and an aspiring anthropologist. His current graduate research at Heidelberg University focuses on materialist anthropology and transcultural history of thought. He also co-directs Ecological Memes, a Japan-based community of regenerators. As co-founder of Sustainable Ocean Alliance Japan, he has coordinated various projects and campaigns to advance the agenda of ocean sustainability. His passions include writing articles and stories on a range of topics such as activism, culture, and philosophy.
About the forum:
A global virtual forum organized by Ecological Memes, a Japan-based community of regenerators, bridging the East and the West towards a co-thriving future.
https://www.forum.ecologicalmemes.me
Product details:
Title: 【EMF21/EN】DAY3_C:A Sociological Perspective on Invisible Violence: Relational and Pluriversal Ontologies (with Rolando Vázquez)
Type: Archived content of online session
Language: Both English & Japanese (Simultaneous interpretation)

※This is an archived content of Ecological Memes Global Forum 2021 "Emergence from AWAI: Regenerating Human-Nonhuman Relations"(03.18-21.2021)
※You can download a PDF file and access links and passwords(You can watch both English ver. and Japanese ver.)