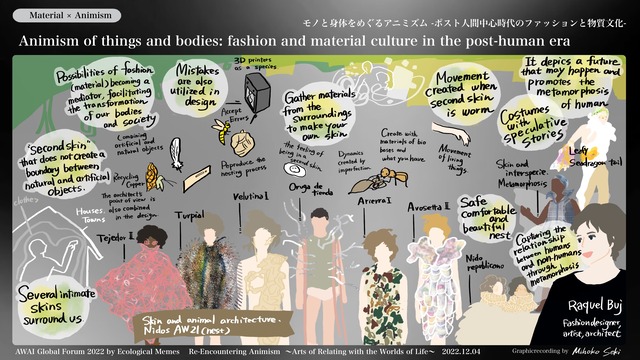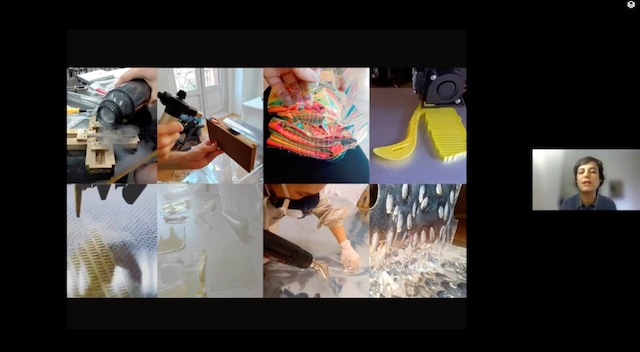 【AGF22/EN】DAY2_B:Animism of things and bodies: fashion and material culture in the post-human era with Raquel Buj, Daijiro Mizuno
AGF22_DAY2_B.pdf
Download URL
You can DL after purchase (102083byte)
Title: 【AGF22/EN】DAY2_B:Animism of things and bodies: fashion and material culture in the post-human era with Raquel Buj, Daijiro Mizuno
Type: Archived content of online session
Language: Both English & Japanese (Simultaneous interpretation)

※This is an archived content of AWAI Global Forum 2022 "Re-Encountering Animism - Arts of Relating with the Worlds of Life" by Ecological Memes(3 Dec - 4 Dec 2022)
※You can download a PDF file and access links and passwords(You can watch both English ver. and Japanese ver.)
※Feel free to contact us if you need a student discount (you can chose either 30%off or 50%off)
Animism of Things and Bodies
AWAI Global Forum 2022 by Ecological Memes (3 Dec - 4 Dec 2022)
"Re-Encountering Animism - Arts of Relating with the Worlds of Life"
ーーーーーーーーーーーーーーーーーーーーーーー
Material × Animis
Animism of things and bodies: fashion and material culture in the post-human era
Navigator: Raquel Buj 〔Fashion Designer / Artist / Architect〕, Daijiro Mizuno 〔Design Researcher〕
ーーーーーーーーーーーーーーーーーーーーーーー
How might our daily lives, including food, clothing, and shelter be linked to animism and myth? In this session, Raquel Buj, a Spain-based fashion designer, architect, and artist working on cutting-edge experimental material development in fashion, and Daijiro Mizuno, a design researcher who researches and practices circular design, will come together to explore animistic dimensions surrounding objects and bodies.In particular, the session will highlight the work of BUJ Studio, which designs new material culture such as body envelopes and second skins by combining materials, craftsmanship, digital manufacturing, and biomaterials from various fields in the development of artworks. By contrasting this with Mizuno's past projects in government, industry, and culture, we will zoom in on fashion and new material culture in the post-anthropocentric era.
Navigator:
・Raquel Buj 〔Fashion Designer / Artist / Architect〕
Raquel Buj is an artist, fashion designer and architect.
She is the founder and director of BUJ studio, an experimental design workshop. She conceives her studio as a laboratory in which to experiment with new materials, combining craftsmanship and technology in the development of her pieces.

She designs body envelopes, second skins that are made with materials brought and reformulated from very diverse fields mixed with digital manufacturing and biomaterials. Her work has received various awards and recognitions, including the Samsung Ego Innovation Project (2017) MBFWM award and the mention for Research and Design at the Ibero-American Design Biennial BID 19 (2019) or the IADE 2021 emerging design award.
She combines her professional practice with her teaching practice as a professor of new materials in fashion at the URJC, the IED and the BAU and giving various workshops and talks nationally and internationally such as TEDxMadrid 19, Retrofuturo. She has been a jury at the RESHAPE Forum Barcelona 2019. Her pieces have been exhibited in various centers and galleries such as Casa Encendida 2020, Riu de Plaza de España 2021, Manuel Piña museum 2022 or Can U sustainable exhibition in Shanghai, China 2022. She has collaborated with various artists such as Janet Novás for Veranos de la Villa 2019 or the Stocos Institute for the Royal Academy of Spain in Rome. Her work has been published in various media such as Vogue, Yorokobu, El País, Neo2, Metal Magazine or A*desk. She has recently been awarded a art grant by the Academy of Spain in Rome 2022-2023.
・Daijiro Mizuno 〔Design Researcher〕
Professor, Center for the Possible Future, Kyoto Institute of Technology/Distinguished Visiting Professor, Keio University Graduate School of Media and Governance
Daijiro completed MA and PhD at the Royal College of Art(London, UK). Upon graduation, he returned to Japan to work on transdisciplinary design projects and research. He has published numerous books and articles.
About the forum:
A global virtual forum organized by Ecological Memes, a Japan-based community of regenerators, bridging the East and the West towards a co-thriving future.
https://www.forum.ecologicalmemes.me/

Product details:
Title: 【AGF22/EN】DAY2_B:Animism of things and bodies: fashion and material culture in the post-human era with Raquel Buj, Daijiro Mizuno
Type: Archived content of online session
Language: Both English & Japanese (Simultaneous interpretation)

※This is an archived content of AWAI Global Forum 2022 "Re-Encountering Animism - Arts of Relating with the Worlds of Life" by Ecological Memes(3 Dec - 4 Dec 2022)
※You can download a PDF file and access links and passwords(You can watch both English ver. and Japanese ver.)
※Feel free to contact us if you need a student discount (you can chose either 30%off or 50%off)