【EMF21/EN】DAY1_B:pray with kodou: Imagining the Light of Life (with Kosuke Matsushima)
EMF21_DAY1_B.pdf
Download URL
You can DL after purchase (101921byte)
Title: 【EMF21/EN】DAY1_B:pray with kodou: Imagining the Light of Life (with Kosuke Matsushima)
Type: Archived content of online session
Language: Both English & Japanese (Simultaneous interpretation)

※This is an archived content of Ecological Memes Global Forum 2021 "Emergence from AWAI: Regenerating Human-Nonhuman Relations"(03.18-21.2021)
※You can download a PDF file and access links and passwords(You can watch both English ver. and Japanese ver.)
※Feel free to contact us if you need a student discount (you can chose either 30%off or 50%off)
pray with kodou: Imagining the Light of Life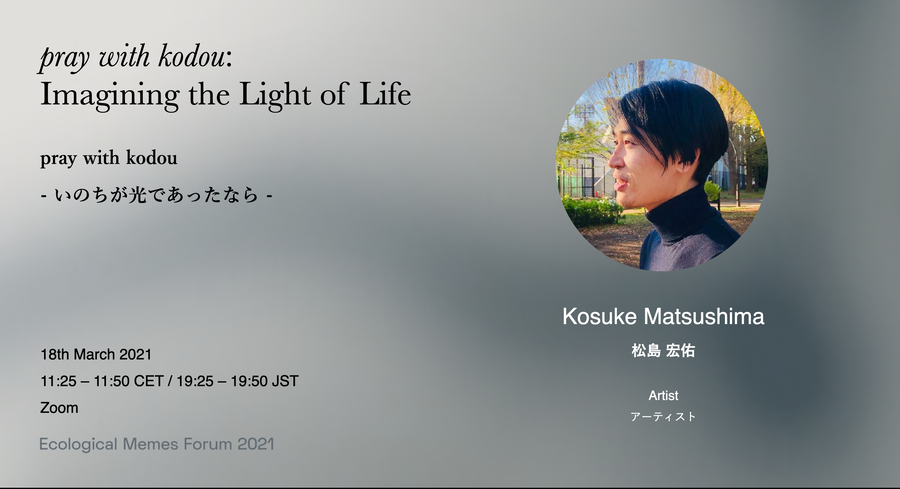 Ecological Memes Global Forum 2021(03.18-21.2021)
"Emergence from AWAI: Regenerating Human-Nonhuman Relations"

DAY1_B:pray with kodou: Imagining the Light of Life (with Kosuke Matsushima)


All things, big or small, are in constant flux, swaying and flickering. Life, too, vibrates from deep within. What does it mean to immerse yourself in the gentle life of the inner, in this age filled with stimuli from the outer? Our participatory art project "pray with kodou" uses little spheres that link to and radiate the light of your heartbeat: a way to sense the calm beats of your life in the dark and pray. This time, we will be using our new iPhone app to allows us to connect to people's heartbeats beyond borders and cultures. Join us for this interactive art session – to imagine: "What if life was light?
Navigator:
・Matsushima Kosuke (Artist)
With an interest in how the universe was born, Kosuke studied elementary particle physics in college. Since 2018, he starts a career as a poet and artist. He produces poetic artworks with innovative expressions such as "Fureru Uta," "Chikyu, Kono Kodokuna Seimei Exhibit," and "Kodou Tokei" with time as its theme and starts his project "pray with kodou." A common theme of his works is awe of life. The audience becomes a part of the art in his works.
https://instagram.com/kosuke.matsushima/
About the forum:
A global virtual forum organized by Ecological Memes, a Japan-based community of regenerators, bridging the East and the West towards a co-thriving future.
https://www.forum.ecologicalmemes.me

Product details:
Title: 【EMF21/EN】DAY1_B:pray with kodou: Imagining the Light of Life (with Kosuke Matsushima)
Type: Archived content of online session
Language: Both English & Japanese (Simultaneous interpretation)

※This is an archived content of Ecological Memes Global Forum 2021 "Emergence from AWAI: Regenerating Human-Nonhuman Relations"(03.18-21.2021)
※You can download a PDF file and access links and passwords(You can watch both English ver. and Japanese ver.)