【EMF21/EN】DAY2_B:Regenerative Leadership: Systemic Transformation, and Dancing with the Rhythm of Nature(with Giles Hutchins)
EMF21_DAY2_B.pdf
Download URL
You can DL after purchase (104692byte)
Title: 【EMF21/EN】DAY2_B:Regenerative Leadership: Systemic Transformation, and Dancing with the Rhythm of Nature(with Giles Hutchins)
Type: Archived content of online session
Language: Both English & Japanese (Simultaneous interpretation)

※This is an archived content of Ecological Memes Global Forum 2021 "Emergence from AWAI: Regenerating Human-Nonhuman Relations"(03.18-21.2021)
※You can download a PDF file and access links and passwords(You can watch both English ver. and Japanese ver.)
※Feel free to contact us if you need a student discount (you can chose either 30%off or 50%off)
DAY2_B:Regenerative Leadership: Systemic Transformation, and Dancing with the Rhythm of Nature(with Giles Hutchins)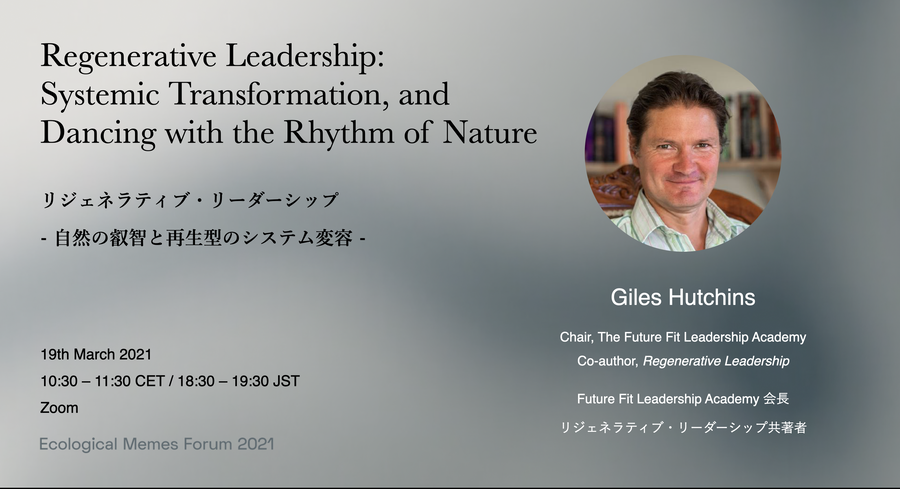 Ecological Memes Global Forum 2021(03.18-21.2021)
"Emergence from AWAI: Regenerating Human-Nonhuman Relations"

DAY2_B:Regenerative Leadership: Systemic Transformation, and Dancing with the Rhythm of Nature(with Giles Hutchins)

What does it mean to be a leader in bringing about a regenerative future? For this session, we are thrilled to welcome Giles Hutchins, co-author of Regenerative Leadership, who will guide us through the essence of emerging leadership that unlocks a deep reconnection to self and life – to facilitate systemic change for a co-thriving future. The keynote address is followed by a panel dialogue with Hiroshi Yamada, founder of Morie, and Yasuhiro Kobayashi, founder of Ecological Memes
[Index]
-From separation to reconnection
-The Regenerative DNA
-Sensing the organization as living system
-Shift in self and systemic awareness
-Allowing for emergences from living systems
-Regenerative culture and leadership consciousness
-A case of consumer goods company
-Emergence between divergence and convergence
-Innate ability to tune into the rhythm of life
-Reasons for taking leaders into nature
-How to spread it within organization
-How to cultivate awai space of silence and emergence
-Wisdom that helps sense dynamic flow of life
-Restoring connection and new hope
Immersing ourselves into love of life
[Navigator]
・Giles Hutchins(Co-author of Regenerative Leadership / Chairman of The Future Fit Leadership Academy)
Giles Hutchins is a pioneering practitioner and senior adviser at the fore-front of the [r]evolution in organizational and leadership consciousness and developmental approaches that enhance personal, organizational and systemic agility and vitality. He is author and co-author of several leadership and organizational development papers, and the books The Nature of Business (2012), The Illusion of Separation (2014), Future Fit (2016) and Regenerative Leadership (2019). Chair of The Future Fit Leadership Academy and Founder of Leadership Immersions, co-founder of Biomimicry for Creative Innovation and Regenerators, he runs a 60 acre leadership centre at Springwood Farm, an area of outstanding natural beauty near London, UK.
Previously held corporate roles - Head of Practice for KPMG, and Global Head of Sustainability for Atos (150,000 employees, over 40 countries). He provides coaching at individual and organisational levels for those seeking to transform their personal and/or work lives. He is also a keynote speaker on the future of business.
About the forum:
A global virtual forum organized by Ecological Memes, a Japan-based community of regenerators, bridging the East and the West towards a co-thriving future.
https://www.forum.ecologicalmemes.me

Product details:
Title: 【EMF21/EN】DAY2_B:Regenerative Leadership: Systemic Transformation, and Dancing with the Rhythm of Nature(with Giles Hutchins)
Type: Archived content of online session
Language: Both English & Japanese (Simultaneous interpretation)

※This is an archived content of Ecological Memes Global Forum 2021 "Emergence from AWAI: Regenerating Human-Nonhuman Relations"(03.18-21.2021)
※You can download a PDF file and access links and passwords(You can watch both English ver. and Japanese ver.)