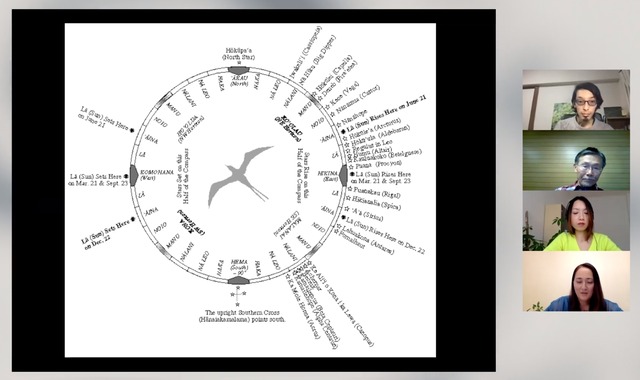 【EMF21/EN】DAY3_A:Calls from Ecosystems: Ecological Perspectives on the Role of Humans (with Kanako Uchino, Masaru Tanaka, Naho Iguchi)
EMF21_DAY3_A.pdf
Download URL
You can DL after purchase (122769byte)
Title: 【EMF21/EN】DAY3_A:Calls from Ecosystems: Ecological Perspectives on the Role of Humans (with Kanako Uchino, Masaru Tanaka, Naho Iguchi)
Type: Archived content of online session
Language: Both English & Japanese (Simultaneous interpretation)

※This is an archived content of Ecological Memes Global Forum 2021 "Emergence from AWAI: Regenerating Human-Nonhuman Relations"(03.18-21.2021)
※You can download a PDF file and access links and passwords(You can watch both English ver. and Japanese ver.)
※Feel free to contact us if you need a student discount (you can chose either 30%off or 50%off)
DAY3_A:Calls from Ecosystems: Ecological Perspectives on the Role of Humans (with Kanako Uchino, Masaru Tanaka, Naho Iguchi)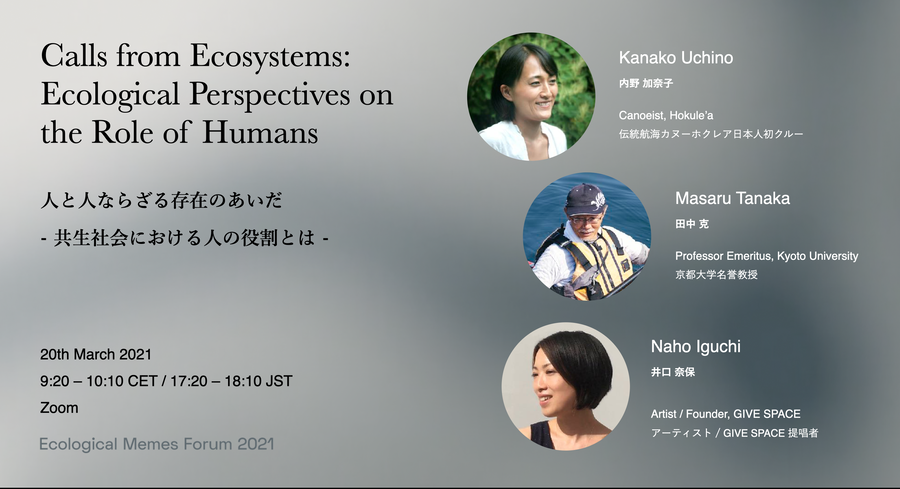 Ecological Memes Global Forum 2021(03.18-21.2021)
"Emergence from AWAI: Regenerating Human-Nonhuman Relations"

DAY3_A:Calls from Ecosystems: Ecological Perspectives on the Role of Humans (with Kanako Uchino, Masaru Tanaka, Naho Iguchi)

Where do humans stand in the human-nonhuman co-mission of building a symbiotic future? In this session, we welcome three special guests: Dr. Masaru Tanaka, professor emeritus of Kyoto University, who has been awarded for his ecological theory, the "Relational Studies of Forest-Village-Ocean"; social sculptor Naho Iguchi, known for her "GIVE SPACE theory" that seeks to redefine the human in relational terms; and canoeist Kana Uchino, member of a coral reef research team at Hawaii Institute of Marine Biology. Join us in exploring the key ecologies of nonhuman-human interaction.
Index:
-Importance of the in-between space in ecosystems
-Cultivating a rich internal space
-Relationality with nature, not objectification
-Human-nature relations beyond dualism
-Nothing changes unless human behavior changes
-To keep on questioning how to co-live with other species in cities
-Living in the forest, longing for the sea
-Deep peace of mind in vast expanse of sea
-Living with a sense of interdependence with other species
Navigator:
・Prof.Masaru Tanaka(Ecologist / Emeritus professor of Kyoto University)
Born by the Lake Biwa (otsu, Shiga Pref.)in 1943. Emeritus professor of Kyoto University. He has studied the early life history of fishes for 40 years, finding the early phase of juveniles aggregate near-shore coastal areas. He also recognized the boundary areas are enriched by terrestrial forest ecosystems as well as highly vulnerable to human activities. Based on these backgrounds he proposed a newly integrated studies on the linkage among forest, sato (human habitation) and sea which covers from the headwater to the ocean called as "H to O Studies".
His recent activities are mainly placed on restoration of Ariake Sea, which was the most productive fishing ground in Japan and it had the highest biodiversity in Japanese coastal waters, under collaboration of citizens, fishermen and researchers. After the massive earthquake and tsunami which occurred on 11 March 2011 along the coast of northern Pacific Ocean of Japan he organized a volunteer research team and has conducted comprehensive researches on the effect of the earthquake and tsunami on coastal marine ecosystem in order to restore local communities under collaboration of H to O Studies and NPO movement catch-copied by"The sea is longing for the forest".
・Naho Iguchi(Artist / Founder of GIVE SPACE)
Artist, Give Space Founder, NION co-founder
Moved to Berlin in 2013. Naho experiments all facets of our ordinary urban life and makes her life a piece of art. Objects of her experimentation range from work style, profession, a place of living, time, money, identity, relationships to the cities as well as the ecosystem. In recent years, she has been to South Africa to search for an emerging role of "Human Animal" on Earth. She found it and now is creating a new urban design methodology called "Give Space" in order to play the role and practice in a beyond-anthropocentric way. She has lately released a teaser of her short essay-documentary film, "Journey to Lioness," a story which conveys the message of Give Space. She is also co-founder of NION Haus Neukölln, a community neighborhood design project in Berlin.
・Uchino Kanako
Kanako Uchino is the first Japanese crew member of the traditional voyaging canoe, Hokule'a. She joined numerous voyages including the historical voyage from Hawai'i to Japan. She studied oceanography at University of Hawaii graduate school and engaged in research at the Hawaii Institute of Marine Biology on anthropogenic impacts on coral reel ecology.
About the forum:
A global virtual forum organized by Ecological Memes, a Japan-based community of regenerators, bridging the East and the West towards a co-thriving future.
https://www.forum.ecologicalmemes.me
Product details:
Title: 【EMF21/EN】DAY3_A:Calls from Ecosystems: Ecological Perspectives on the Role of Humans (with Kanako Uchino, Masaru Tanaka, Naho Iguchi)
Type: Archived content of online session
Language: Both English & Japanese (Simultaneous interpretation)

※This is an archived content of Ecological Memes Global Forum 2021 "Emergence from AWAI: Regenerating Human-Nonhuman Relations"(03.18-21.2021)
※You can download a PDF file and access links and passwords(You can watch both English ver. and Japanese ver.)