【EMF21/EN】DAY4_B:Realm of Resonance in Dark Ecology ( with Masatake Shinohara, Nile Koetting )
EMF21_DAY4_B.pdf
Download URL
You can DL after purchase (111230byte)
Title: 【EMF21/EN】DAY4_B:Realm of Resonance in Dark Ecology ( with Masatake Shinohara, Nile Koetting )
Type: Archived content of online session
Language: Both English & Japanese (Simultaneous interpretation)

※This is an archived content of Ecological Memes Global Forum 2021 "Emergence from AWAI: Regenerating Human-Nonhuman Relations"(03.18-21.2021)
※You can download a PDF file and access links and passwords(You can watch both English ver. and Japanese ver.)
※Feel free to contact us if you need a student discount (you can chose either 30%off or 50%off)
DAY4_B:Realm of Resonance in Dark Ecology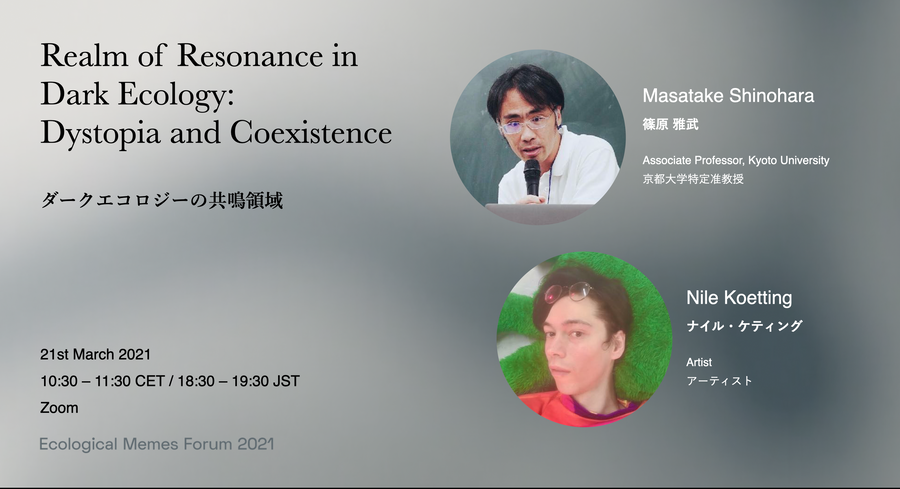 Ecological Memes Global Forum 2021(03.18-21.2021)
"Emergence from AWAI: Regenerating Human-Nonhuman Relations"

DAY4_B:Realm of Resonance in Dark Ecology ( with Masatake Shinohara, Nile Koetting )

What modes of perception do we use in interacting with our lifeworlds? Timothy Morton, author of Ecology Without Nature, points out the dangerous romanticization in our obsessions with a perfect yet consumable nature, and instead suggests the idea of "dark ecology" to urge a humbler understanding of ever-augmenting impacts of the anthropogenic. In this session, guided by Timothy Morton's discussion, philosopher Masatake Shinohara and artist Nile Koetting weave through topics such as dark ecology, artificiality, planetary world and materiality, and coexistence in dystopia, to identify the realm of resonance in a future where human beings are not dominant actors any longer.
Index:
-Reality amidst Covid-19
-Between the virtual and the real
-Theater without audience, programmed behaviors
-Sense of being an aggregate of microorganisms
-Where is the border between humans and nonhumans?
-Living with the uncanniness of human existence
-There is no word for "identity" in Japanese
-Amazon recommended me Timothy Morton
-End of the philosophy of nature conservation
Navigator:
・Masatake Shinohara(Philosopher)
Shinohara Masatake was born in 1975 in Kanagawa Prefecture. Currently, he is associate professor at Kyoto University, with a primary focus on contemporary philosophy, environmental humanities, architecture, and art. In 2016, he served as co-curator of the Japan Pavilion at the Venice Architecture Biennale.
・Nile Koetting(Artist)
Born in Kanagawa, 1989. Lives and works between Tokyo and Berlin.
Nile Koetting is known for his installation with a diverse range of media to include video, performance, and sound. His projects explore a new perception of interchange between material – immaterial, living – nonliving beings in a landscape of technological time and space.
Koetting's work has been exhibited internationally such as Palais de Tokyo, Paris (2020); Centre Pompidou x West Bund Museum, Shanghai (2019); Kunstverein Göttingen (2019); Somerset House, London (2018); 7th Moscow Biennale, Moscow (2017); Kunstverein Hannover, Hannover (2017); Fondation Hermès, Maison Hermès, Tokyo (2016); ZKM, Karlsruhe (2016); Mori Art Museum, Tokyo (2016); Hebbel Am Ufer, Berlin (2016).https://nileshaw.org/
About the forum:
A global virtual forum organized by Ecological Memes, a Japan-based community of regenerators, bridging the East and the West towards a co-thriving future.
https://www.forum.ecologicalmemes.me
Product details:
Title: 【EMF21/EN】DAY4_B: Realm of Resonance in Dark Ecology ( with Masatake Shinohara, Nile Koetting )
Type: Archived content of online session
Language: Both English & Japanese (Simultaneous interpretation)

※This is an archived content of Ecological Memes Global Forum 2021 "Emergence from AWAI: Regenerating Human-Nonhuman Relations"(03.18-21.2021)
※You can download a PDF file and access links and passwords(You can watch both English ver. and Japanese ver.)