【EMF21/EN】DAY4_C:Augmented Ecosystems: Synecoculture's Approach to a Symbiotic Future (with Masatoshi Funabashi)
EMF21_DAY4_C.pdf
Download URL
You can DL after purchase (114400byte)
Title: 【EMF21/EN】DAY4_C:Augmented Ecosystems: Synecoculture's Approach to a Symbiotic Future (with Masatoshi Funabashi)
Type: Archived content of online session
Language: Both English & Japanese (Simultaneous interpretation)

※This is an archived content of Ecological Memes Global Forum 2021 "Emergence from AWAI: Regenerating Human-Nonhuman Relations"(03.18-21.2021)
※You can download a PDF file and access links and passwords(You can watch both English ver. and Japanese ver.)
※Feel free to contact us if you need a student discount (you can chose either 30%off or 50%off)
DAY4_C:
Augmented Ecosystems: Synecoculture's Approach to a Symbiotic Future (with Masatoshi Funabashi)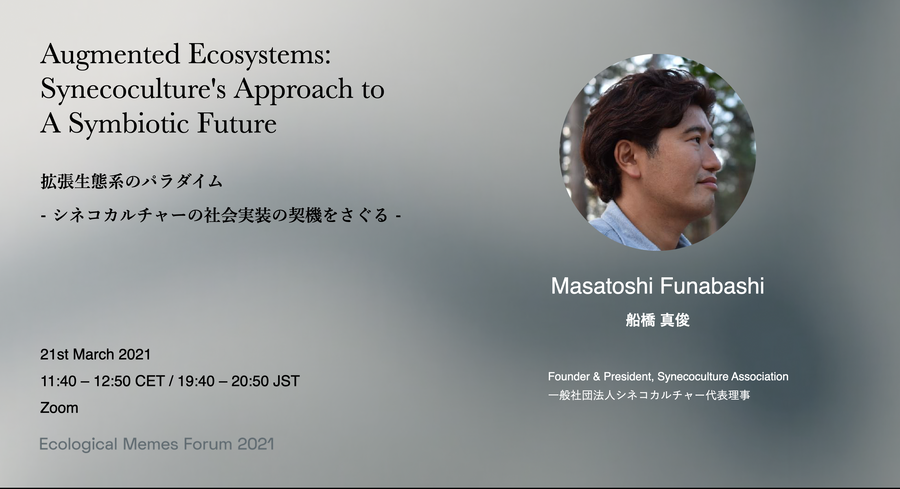 Ecological Memes Global Forum 2021(03.18-21.2021)
"Emergence from AWAI: Regenerating Human-Nonhuman Relations"

DAY4_C:
Augmented Ecosystems: Synecoculture's Approach to a Symbiotic Future (with Masatoshi Funabashi)
Since the Agricultural Revolution, mankind has one-sidedly exploited and benefited from the resources of our nature. Now, more than ten-thousand years later, some are challenging the long-standing history.
In this event-closing session, we welcome Masatoshi Funabashi and his research team from Sony Computer Science Laboratories, Inc., pioneers of a cutting-edge ecosystem paradigm, Augmented Ecosystems, and its agricultural methodology, Synecoculture. Aspiring to radically reconfigure human relations to ecosystems, they apply a transdisciplinary approach to exploring the autopoietic capacities of the biosphere and have helped resolve desertification, food shortage, urban and medical challenges in regions such as the Sahel in Africa. This will be a perfect opportunity to wrap up the forum with a discussion not only on the fundamental roots of the problems of our era, but also concrete ways by which we can put ideas into practice so as to help create a truly co-thriving future of humans and nonhumans.
Index:
-Biodiversity loss caused by agriculture
-Beyond dualism between humans and nature
-Synecoculture as way for humans and ecosystems to co-thrive
-Desert greening and local economy
-Augmented ecosystems in urban spaces
-Relativization of conventional monoculture
-Sigmoidal growth based on augmented ecosystems
-Towards natural-social common capital
-Difference from natural farming and permacultuure
-How to support small farmers
-Applications for farmers and abandoned farmlands in Japan
-Where to start?
-Monitoring transitions in ecosystems
-Urban planning as complex system with multiple KPIs
-Synecoculture as open source
-Perceptual changes within humans
Navigator:
・Funabashi Masatoshi(Founder & President, Synecoculture Association
Researcher, Sony CSL)
Masatoshi Funabashi, PhD.Founder & President, Synecoculture Association
Researcher, Sony Computer Science Laboratories, Inc. (Sony CSL)
Having studied biology and mathematical science to master's level at the University of Tokyo, Masatoshi Funabashi went on to obtain a PhD in Physics at the École polytechnique in Paris. He is a licensed veterinarian. Since 2010 he has been at Sony CSL researching a field that sits at the intersection of sustainability, health and the natural world. He advocates "Synecoculture™," a method of open-field agriculture that mutually enhances biodiversity and productivity based on the multi-functionality of ecosystems. His main initiative has been a pilot project for the proof of concept in Japan and Sub-Saharan Africa. He also founded the Synecoculture Association in 2018 and is now extending the boundaries of Synecoculture to "Augmented Ecosystems" for the sustainability of both human society and Anthropocene ecosystems."
About the forum:
A global virtual forum organized by Ecological Memes, a Japan-based community of regenerators, bridging the East and the West towards a co-thriving future.
https://www.forum.ecologicalmemes.me
Product details:
Title: 【EMF21/EN】DAY4_C:Augmented Ecosystems: Synecoculture's Approach to a Symbiotic Future (with Masatoshi Funabashi)
Type: Archived content of online session
Language: Both English & Japanese (Simultaneous interpretation)

※This is an archived content of Ecological Memes Global Forum 2021 "Emergence from AWAI: Regenerating Human-Nonhuman Relations"(03.18-21.2021)
※You can download a PDF file and access links and passwords(You can watch both English ver. and Japanese ver.)