【EMF21/EN】DAY2_D:Anthropology and Art Beyond the Human: Materiality, Urbanity, Life and Nonlife (with Lukas Ley, Tomoko Sauvage & Taishi Hatayama)
EMF21_DAY2_D.pdf
Download URL
You can DL after purchase (120527byte)
Title: 【EMF21/EN】DAY2_D:Anthropology and Art Beyond the Human: Materiality, Urbanity, Life and Nonlife (with Lukas Ley, Tomoko Sauvage & Taishi Hatayama)
Type: Archived content of online session
Language: Both English & Japanese (Simultaneous interpretation)

※This is an archived content of Ecological Memes Global Forum 2021 "Emergence from AWAI: Regenerating Human-Nonhuman Relations"(03.18-21.2021)
※You can download a PDF file and access links and passwords(You can watch both English ver. and Japanese ver.)
※Feel free to contact us if you need a student discount (you can chose either 30%off or 50%off)
DAY2_D:Anthropology and Art Beyond the Human: Materiality, Urbanity, Life and Nonlife (with Lukas Ley, Tomoko Sauvage & Taishi Hatayama)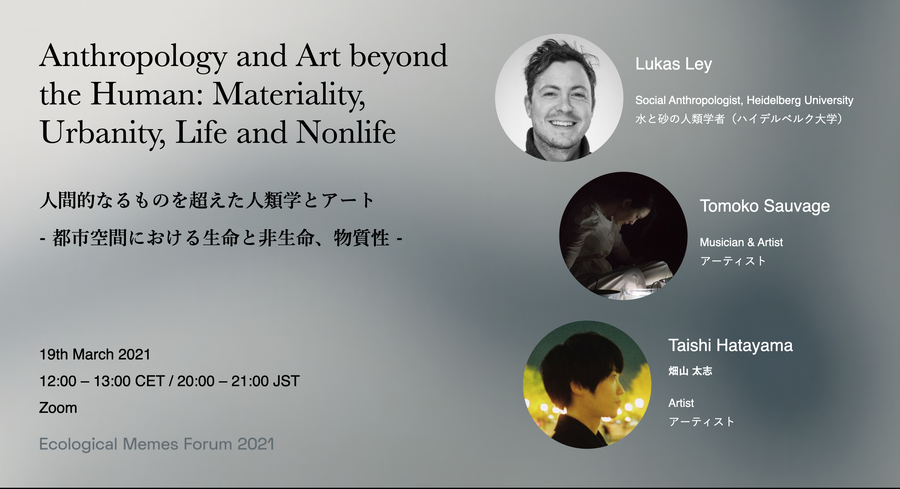 Ecological Memes Global Forum 2021(03.18-21.2021)
"Emergence from AWAI: Regenerating Human-Nonhuman Relations"

DAY2_D:Anthropology and Art Beyond the Human: Materiality, Urbanity, Life and Nonlife (with Lukas Ley, Tomoko Sauvage & Taishi Hatayama)

Do things have life? Throughout history, humankind has relied on material things to build civilizations, which are crystallized in the emergence of modern urban space. But does the material simply submit to the human, or also the other way around? In highlighting the worldwide attempts to rethink a unidirectional, anthropocentric view of networks and to create a new vocabulary such as "interdependency" and "vitality" to reimagine human-material relations, we welcome to this session anthropologist Lukas Ley, visual artist Taishi Hatayama, and water sound artist Tomoko Sauvage, with whom we will explore the emerging horizons of an anthropology and art beyond the human.
Index:
-Decentering our knowledge of life and human agency
-Paying rent to nature
-Nature as a political system
-Resonance with water, things and space
-Primordial perception of the non-visible
-Umwelt of materiality and non-life
-The agency of sand and water
-A sharing of vibration in time and space
-What does it mean to be human
-Caring for your body equals caring for surrounding things
Navigator:
・Lukas Ley, PhD
Lukas Ley is a social anthropologist teaching at the Institute of Anthropology, Heidelberg University. He received his PhD from the University of Toronto in 2017. He is a member of the DFG funded research network 'Infrastructure and the remaking of Asia through adapting, orchestrating and cooperating.' He also works as assistant editor for Social Anthropology/Anthropologie Sociale. In 2019, he co-founded urban anthropology networks within the European Association of Social Anthropologists and the German Association for Social and Cultural Anthropology. His current research is broadly concerned with urban marginalization, temporality, and the material environment within post-colonial urban landscapes. His first monograph entitled "Building on Borrowed Time" (forthcoming, University of Minnesota Press) considers the temporalities of tidal flooding in Semarang, Indonesia, and will appear in 2020.
・Taishi Hatayama(Artist)
Taishi Hatayama was born in Kanagawa, Japan in 1992. Hatayama completed a MFA in painting at Tama Art University in 2017. Hatayama explores the idea of the unseen "atmosphere" and "presence" that we feel in places of nature, and attempts to turn these physical sensations into concrete visuals. His works represent an intangible world, guided by what he calls "primordial perception", a form of sensory perception our physical bodies are inherently equipped with.

・Tomoko Sauvage(Artist)
Tomoko Sauvage is a Japanese musician and artist who is best known for her long-time sound experimentations on her unique instrument using water, ceramics and subaquatic microphones. Her research is grounded on live-performance-based practice incorporating elementary and unstable materials, ritualistic yet playful gestures, the improvisation with environments and the use of chance as a compositional method.
https://o-o-o-o.org
About the forum:
A global virtual forum organized by Ecological Memes, a Japan-based community of regenerators, bridging the East and the West towards a co-thriving future.
https://www.forum.ecologicalmemes.me
Product details:
Title: 【EMF21/EN】DAY2_D:Anthropology and Art Beyond the Human: Materiality, Urbanity, Life and Nonlife (with Lukas Ley, Tomoko Sauvage & Taishi Hatayama)
Type: Archived content of online session
Language: Both English & Japanese (Simultaneous interpretation)

※This is an archived content of Ecological Memes Global Forum 2021 "Emergence from AWAI: Regenerating Human-Nonhuman Relations"(03.18-21.2021)
※You can download a PDF file and access links and passwords(You can watch both English ver. and Japanese ver.)